Access Map
Access to Kanagawa Science Park
How to get there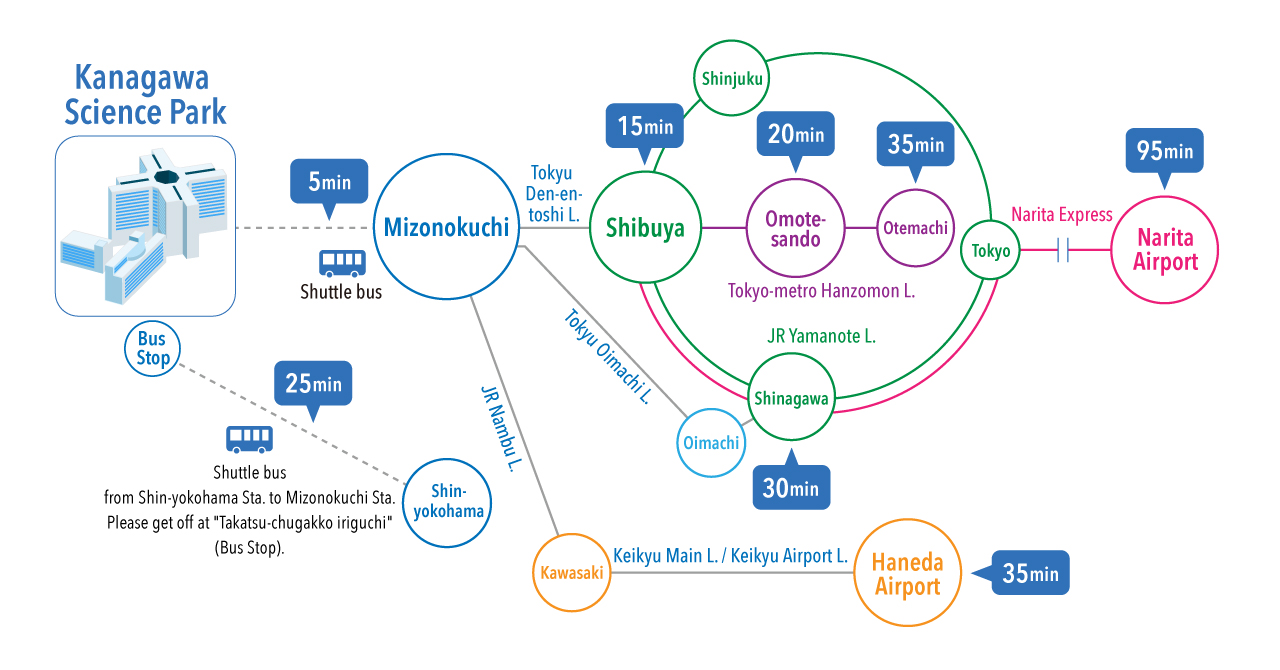 By train
If you use the train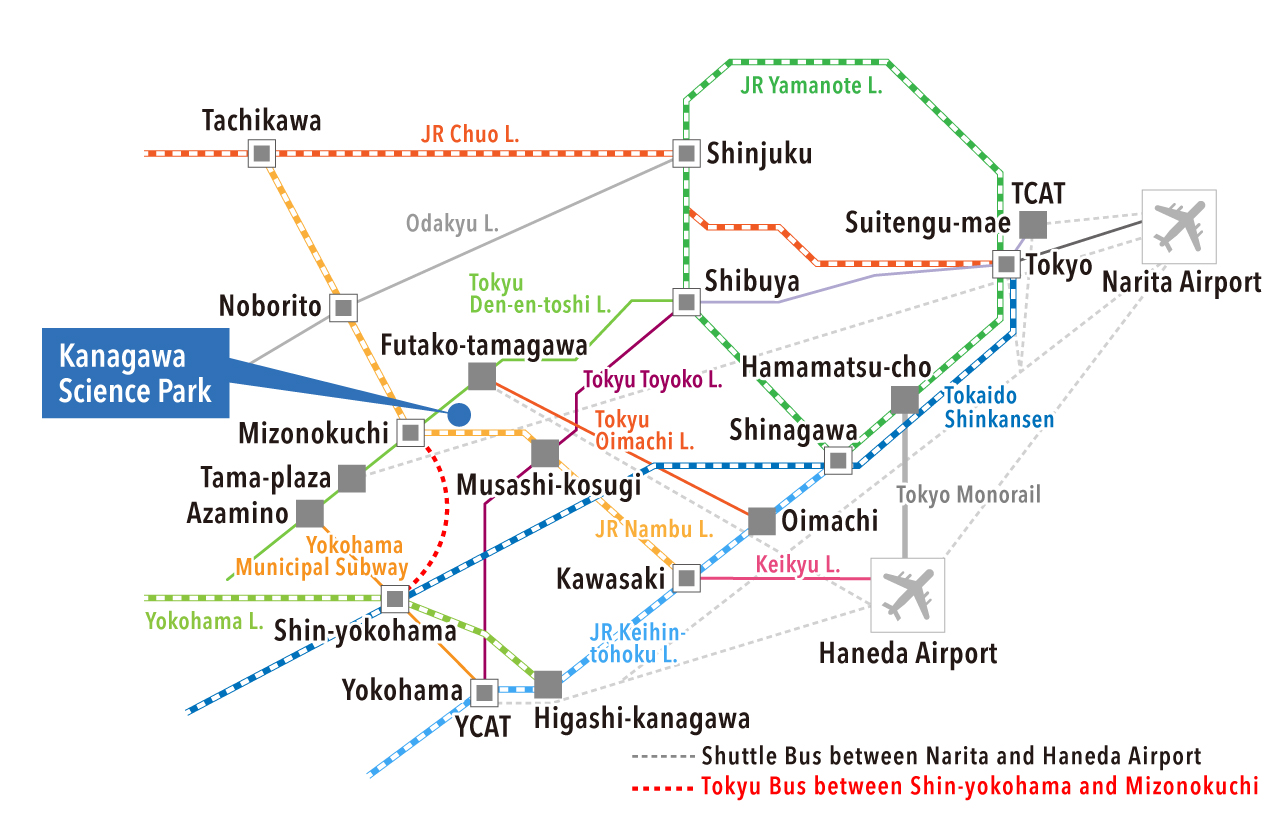 Nearest station: Mizo-no-guchi Station on the Tokyu Den-en-toichi Line and Oimachi Line / Musashi-Mizo-no-guc
hi Station on the J
R Nambu Line 05 minutes on foot 0 About 5 minutes by free shuttle bus to KSP from Mizoguchi Station North Exit Bus Terminal No. 9
* Since it will operate as a member-only tomorrow until 10:00 a.m. on weekdays, a membership card is required for boarding.
→ "KSP Shuttle Bus Usage Guide and Timetable"
By walk
If you walk from Mizonoguchi Station
〇About 15 minutes from the north exit of Mizonoguchi Station
By car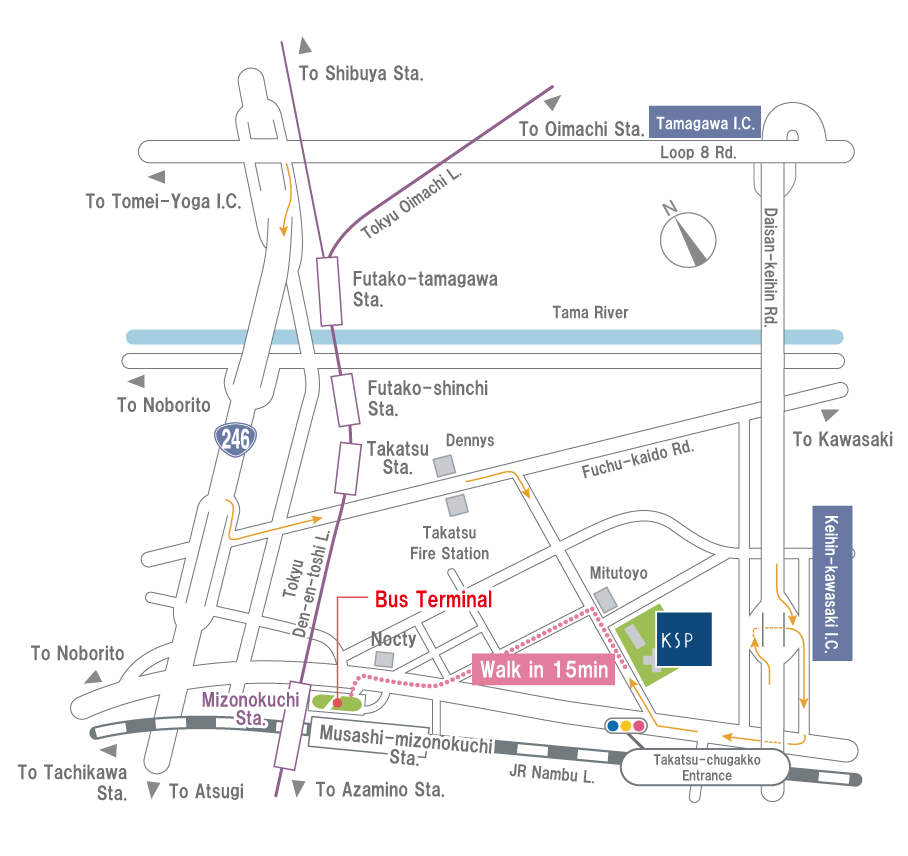 No.3 Keihin Road: About 3 minutes from Keihin Kawasaki I.C
Metropolitan Expressway Line 3: About 15 minutes from Yuga
I.C Tomei Expressway: About 25 minutes from Tomei Kawasaki I.C
■Kanagawa Science Park Undergroun
d Parking Hours: 7:30-22:30 / Parking fee: 100 yen/20 minutes
* Please note that you cannot enter or leave the car except during the above hours. * Free parking tick
ets will be issued from each store depending on the purchase amount for those who purchase at stores that are subscribed to the KSP Shop Association (excluding banks and p
ost offices). ・ In the case of purchase more than 1,000 yen: 1 ho
ur free, in the case of purchase more than 3,000 yen: 2 hours free
However, some products may not be eligible for free parking tick
ets. For details, please contact each store when using.
* For HOTEL ARU KSP customers, there is a dedicated ground air wheel. Click here for details ※The vehicle hei
ght limit of the underground parking lot is as follows.
West wing cargo handling place 2.8m or less East building and R&D building 2.5m or less
When using Haneda Airport