Tenant Interview
Prosonic Co., Ltd.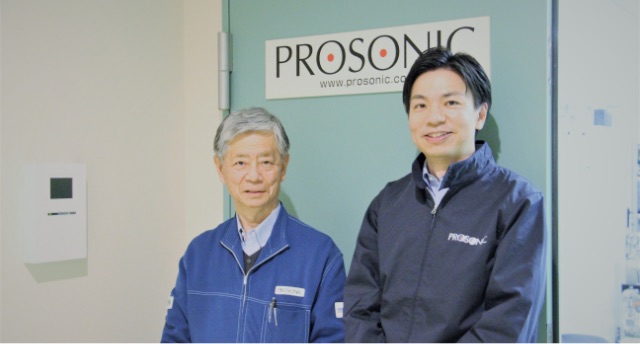 "Ultrasound" technology used in various parts of society. Prosonic is mainly involved in the design and manufacture of processing machines and welding machines that utilize this. However, its business domain is focused on very niche fields, and it is a company with one of the best technological capabilities in the world known to those in the know. We interviewed Mr. Aoki, the founder, and Mr. Saito, the director.
Mr. Shigemi Aoki

President and CEO

While having a keen atmosphere as an industry-leading engineer and manager, there is also a calm side that time with the family is valued on holidays. He is respected by Mr. Kiyoshi Inoue, who is famous for the electric discharge machine that has the monument in KSP, and he learned about KSP by seeing Mr. Inoue's magazine article about KSP. He was immediately called to KSP. He doesn't like slogans and doesn't have them in the company, but if he dares to say the inscription, he says, "It's kind to people and kinder to me."

Mr. Tsuyoshi Saito

Sales Engineering Department Manager

The words he cherishes are the words of wisdom, "Continuity is power," which he says are "common," but there is no doubt about it. It is evident that he has accumulated his own unique skills through delicate work. On his days off, like Mr. Aoki, he tries to spend time for his family. He has also been playing in a band for a long time as his hobby, playing the guitar and used to tour live. He said strongly that he would like to continue his music and also to be involved in ultrasound.
Proud of top technology in a specialized and advanced niche market
Q

: Please tell us what kind of products you are dealing with.
A

: Mainly processing machines and welding machines that use "strong ultrasonic waves", which is a special type of ultrasonic waves.

Aoki : Check the baby's stomach, understand the internal structure of the building, and enter the building. There are various types of devices that use ultrasonic waves, such as preventing the invasion of mice. A little different from them, the technology we are using is the "amplitude" technology of the "vibration amplitude" of ultrasonic waves, which belongs to the category of "strong ultrasonic waves". The products we handle specifically are called "ultrasonic processing machines" and "ultrasonic welding machines".

Aoki : The ultrasonic processing machine is a machine that uses a diamond drill to drill holes in brittle materials such as glass. is. High-precision deep hole drilling can be performed. The ultrasonic welding machine generates strong heat on the joint surface of two parts only by ultrasonic vibration without using adhesives or bonds, and melts and joins them.

Saito : Ultrasonic welding is used for packaging automobile parts and foods. Ultrasonic welding is also the process of bonding the rubber of the sanitary mask to the non-woven fabric. That is not an adhesive, isn't it? And while general heat welding requires the heat source to be kept at a much higher temperature, ultrasonic welding requires only instantaneous power consumption. The craft tools stay cold, so they are safe and eco-friendly.
Q

: How are they evaluated?
A

: It is a point that fulfills difficult needs that other companies have abandoned.

Aoki : We use strong ultrasonic waves to meet needs that cannot be realized by other companies. .. We cannot get them and place large orders, but by responding to your requests, we can expect that they will lead to orders for the second and third units.

Saito : We handle strong ultrasonic waves that are unique. For example, there is a vibrating body called an ultrasonic horn, and the technology of rotating this is one of them. There are other technologies that have hardly yet been put to practical use in the competition.

Aoki : There is a contractual confidentiality obligation regarding where it is used, so I cannot tell you in detail. However, it is used by major manufacturing industries. It is used for processing rocket parts and defense technology in the space development field, and although it is a niche market, we have an overwhelming share. Our technology is unique, but it doesn't sell so much. I don't want to sell a lot. However, it is technically very interesting.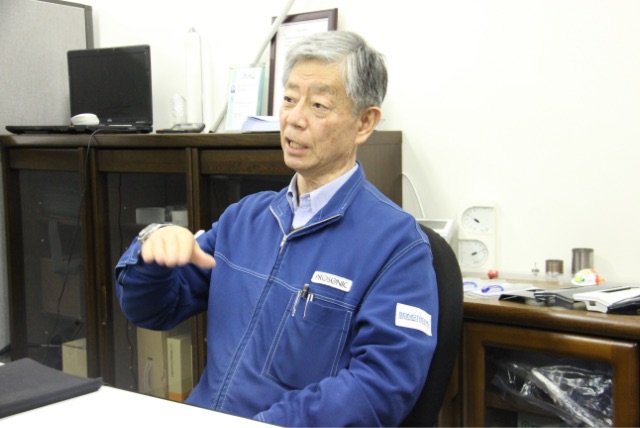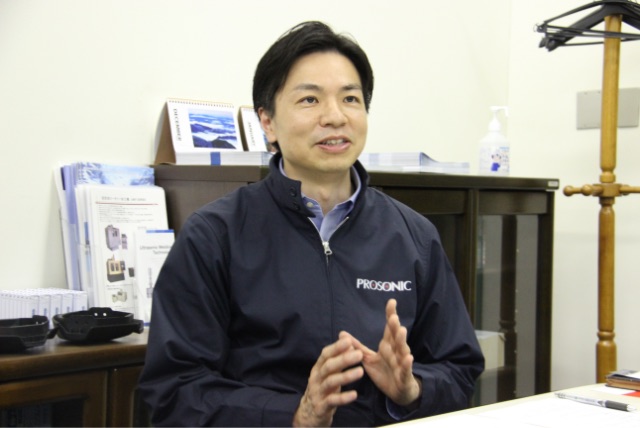 28 years of entrepreneurship, credibility, and proof of technology
Q

: Under what circumstances and thoughts did you start your business?
A

: I didn't want to move away from the ultrasonic waves that I was attracted to.

Aoki : I still remember the first big business talk after starting a business. The machines we make are expensive, so we can only make them after receiving an order from a customer. In other words, there is no actual machine before you place an order. Therefore, the purchasing department on the customer side was reluctant to order the machine. Is it okay to trust without test processing and without looking at the actual product? However, the technical staff on the customer side trusted our technology, and I was confident that I could respond to it, so I accepted it and delivered the machine, which cost about 35 million yen at that time, safely.

Aoki : Even when Saito entered, it was a difficult time to process a special optical fiber part. .. It is a part that costs about 1 million yen, which requires the work of making holes with ultrasonic waves. We received a request because we only had the technology to make holes with precision parts that still hold world records. It took about a month to process one, and I couldn't do it alone, so I hired him.

Saito : Yes, that was about 17 years ago, when I first worked part-time. Originally I was interested in glass processing, and I heard that I handle processing machines, so I imagined crafts. However, I was confused because it was completely different from what I had imagined (laughs). Also, he was doing music, but he didn't know anything about ultrasound. I learned that there is a technology to use inaudible sounds for processing and welding, and it is very niche but interesting. It's a technology that you can't usually meet, so I'm fascinated by the fact that you can acquire it and work with people from major companies.

Aoki : It would be great if you could tell a listed company that your technology is number one. It also gives you confidence. However, if the machine is not finally accepted, it will not be money, so while it is fun, there are many troubles (laughs). When you run a company, you are chased by the fate of having to make a profit. Looking at various managers, there are people who are striving for technology and those who are striving for profit. The latter tends to undermine technology. I didn't make much money because I was so enthusiastic about technology, but I had a lot of interesting experiences.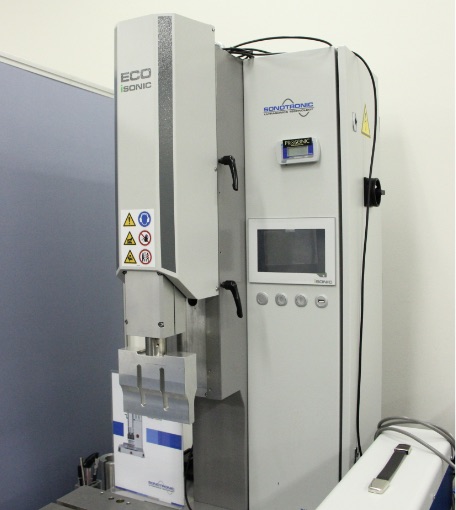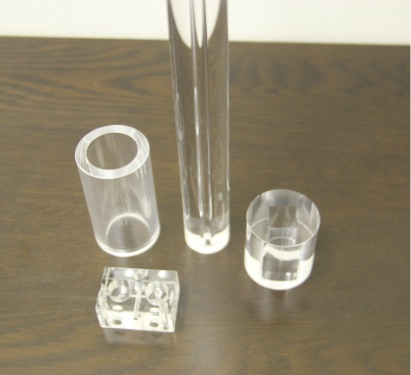 Advantages in business growth and business convenience
Q

: Is there anything positive about moving into KSP?
A

: It is credible that "it is a company recognized by KSP". I'm happy with the support.

Aoki : I mentioned earlier that there is a contractual confidentiality obligation and I can't tell you the details, but KSP Being in the office is our biggest promotion.

Saito : Well, not only the technical features but also being at KSP is what many major customers say. I feel that it is one of the good reasons to be trusted.

Aoki : When I moved in, the competition rate was high due to the venture boom, and I wouldn't clear until the third screening. There was a high hurdle that I couldn't move in. At that time, only about 20 companies were able to move in. Being the company of choice creates a sense of trust. The decisive factor in the examination will be "ultrasonic waves". I think it was highly evaluated that it was a business in an unfamiliar category. It seems that the point of evaluation was that there were many large customers.

Aoki : Since then, I have received various support from KSP. For example, I have received advice on banks and letters of recommendation when receiving subsidies, and I have continued to this day.
Q

: What is the appeal of the KSP facility and the location of Mizonokuchi?
A

: Facilities, town, coming and staying are very convenient and pleasing.

Saito : KSP is comfortable. The hall is substantial. There are convenience stores, post offices, hotels. Customers can also use the restaurant for lunch, and customers from afar often use the hotel on business trips. There are our customers all over Japan, but when I go on a business trip, many people know about KSP, and that alone can be a hot topic.

Aoki : Mizonokuchi is very convenient for transportation, isn't it? The Tokyu and Nambu lines run, and the entrance to the Tomei Expressway is near. Daisan Keihin is also nearby. There are many old-fashioned shops in front of the station, and I often use them. It is also convenient to guide customers at night. A short distance from the station, there are many good environments.

Aoki : Well, you can come from Shin-Yokohama Station by one bus, and there are many customers from overseas. I am very pleased. I also commute to KSP, which is convenient because there is a bus from the station. Many customers come by car, but there is also a large parking lot.
As a "Sonic professional", further explore the possibilities of ultrasound
Q

: What kind of business development do you have in mind in the future? What are you thinking about specifically?
A

: We hope to solve problems in various products and fields with ultrasonic waves.

Aoki : In the future, we would like to develop even more different ultrasonic products centered on these two product technologies. I think. For example, higher frequency areas. Specifically, there is a dental hygiene device called a scaler that scrapes cavities, but I would like to make this with ultrasonic waves. In order to remove small cavities that can only be seen with a large camera, existing drills have to cut a surface about 10 times wider than the cavities. There is a way to use chemicals, but I don't want to use them considering side effects. At the moment, our spindle is too big, but we would like to develop a spindle that is about the size of an electric toothbrush and can rotate and vibrate.

Aoki : And as industrial products are getting smaller and smaller, we can also process finer ones. I want to establish the technology. In the near future, biodegradable plastics will also be ultrasonically weldable. It can still be welded, but it is still easy to separate again. I would like to find a way to overcome it and commercialize it.

Saito : I would like to contribute not only to commercialization but also to sales expansion. I would like to develop new fields together with the president.
---
| | |
| --- | --- |
| Company name | Prosonic Co., Ltd. |
| Location | 3-2-1 Sakado, Takatsu-ku, Kawasaki-shi, Kanagawa Kanagawa Science Park (KSP) East Wing 204 |
| Representative | President and CEO Shigemi Aoki |
| Website | https://prosonic.co.jp/ > |